What is a Page Builder?
WordPress is a popular Content Management System (CMS) used to build and host websites. Over the years the popularity of WordPress development increased a lot. This is because it made website development simple and easy to manage. WordPress has tons of themes and plugins to choose from to build your website.
One such plugin, that makes life easier, is Page Builder. It allows you to develop a website with less or no code. Page builders have custom visual editors which consist of many elements such as images, social media icons, text blocks, etc. You can drag and drop elements into the front-end or back-end of the website.
Page builders help to develop responsive websites with very minimal effort. Users can develop functional pages with existing or custom-made components as per need. Below are some of the top page builders that are popular and simple to use.
1) Elementor
Elementor is one of the best WordPress page builders with 5+ million installations. It has a free version and a pro version that offers more functionalities and widgets. The development is done live on the front end with drag and drop elements. It is an open-source solution and so custom widgets and functionalities can also be developed. Most of the WordPress development agencies in the USA use Elementor for their development process.
It is possible to build a website from scratch or choose a full website kit and customize it according to the need. The template library contains single pages, blocks, popup templates, etc. to choose from. It also provides the functionality to create custom breakpoints, so that the website is responsive and clean with different platforms and devices.
The Elementor builder can be used to build responsive websites with different tools. It is also backed by community and customer support that helps business achieve their goals and stay productive.
2) Divi
Divi is a paid product with a myriad of features. It contains a Divi theme used for website development from scratch. If you have a theme already in place, then you can use the Divi plugin which supports all themes.
The website is developed on the front end with the live editing feature.  Developing websites has never been easy, with tons of customization and less or no code. Else, you can also choose themes and layouts from the library that Divi provides. These layouts have different functional pages and can be customized for business-specific needs.
Developers can also combine their custom CSS or develop the entire website from scratch using Divi. With Divi, users have full control over the development process. They can develop custom extensions for their platforms. Designs once created can be reused to streamline your workflow. It also provides speed boosts to avoid longer load time, thus also helping rank your website in SERP.
3) WP Bakery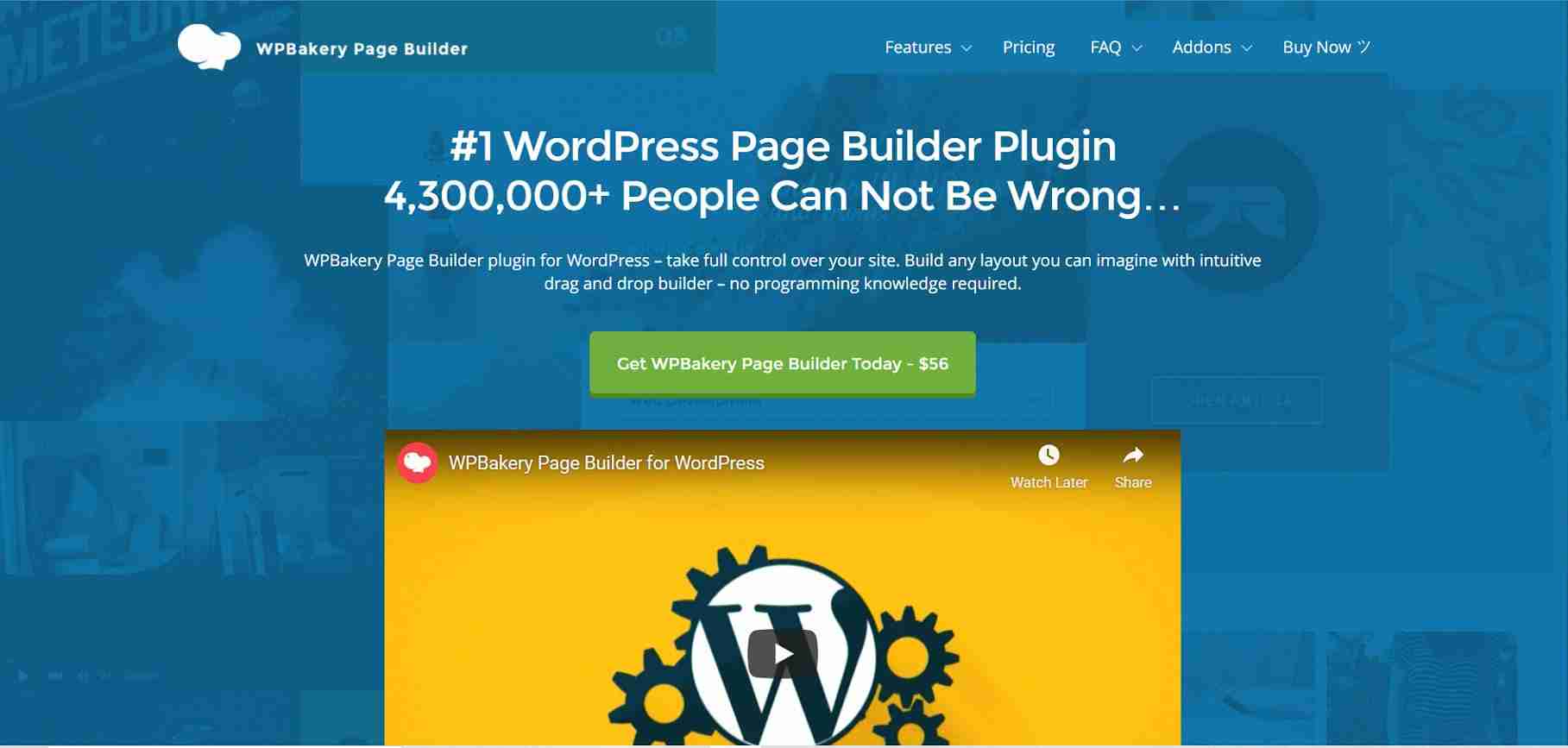 WPBakery is another paid WordPress page builder. Unlike Elementor and Divi, this allows web development in both the front end and back end. The plugin supports development with any WordPress theme for your unique needs. 
Besides that, WP bakery offers skin builders. Skin builder allows you to customize pages to align with your brand identity and change the visual appearance of WPbakery theme pages. It can also be made such that it affects only certain parts of the theme as per need. The template library and addons have free elements that can be used on your website and new custom elements can also be developed for the page builder.
WPbakery provides extensive customer support so that websites stay efficient and light. It has more amazing features such as Object-Oriented Code, Woo Commerce Compatibility, Yoast SEO compatibility for developing different functionalities. WPBakery helps you develop a responsive website that ranks your brand at the top.
4) Beaverbuilder
Many web developers in the USA use Beaver Builder to develop their client sites and themes. It is a popular drag and drop page builder plugin for WordPress.
It also comes with a live front-end interface for developing your website. Beaver Builder has modules for almost everything from content blocks to buttons to carousel. There are 30+ templates to choose from to develop your landing pages in a jiffy. It is very easy to use and doesn't need much technical knowledge to master.
The plugin is compatible with the new WordPress version. It has been updated to work alongside the new WordPress Gutenberg editor. When it comes to choosing a handy page builder plugin, Beaver Builder is one of the cheapest options to bet on.
5) SeedProd
Over 1 million users use SeedProd for their website and it is one of the cheapest options available. SeedProd is a no-code platform and it was designed with a preference for website speed. Sites developed with SeedProd load very fast and hence they can rank better in SEO.
Custom WordPress themes can be developed with no code. It also has a design system that saves and reuses elements, font combinations, page templates, and more. It also contains 150+ pre-developed templates. Thereby, websites are developed and ready for business fast.
SeedProd is compatible with all WordPress themes and plugins. This can make the website revamp a walk in the park. All in all, SeedProd is one of the best choices for people with no coding knowledge.
Recently, WordPress launched the Gutenberg editor as the default editor. But, the editor is a long way from providing the functionality of a full-fledged page builder. The above-mentioned builders are some of the best and easy-to-use options available in the market. 
With WordPress Page builders, developing a website might have become a scoop of ice cream. But, there are more factors to consider while developing a website for your business. Factors such as the size of the images to use, FCP, speed index, etc. So, it is advisable that you hire an expert WordPress development company. That way your business achieves the intended goals without any waste of time and money on experimenting.  
Create Your Top-Notch Website With Us!
Get More Insights and Services