If you're seeking a seamless and efficient way to manage your customer relationships and sales processes, Zoho and Lightspeed integration would be the simple & obvious choice for many.
Combining the best CRM with a great Point-of-sale solution can, indeed, scale your business efficiency to greater heights. As you grow in your business, a seamless integration can help in gaining valuable insights into customer interactions and streamlining your operations, and workflows.
Many Zoho partners around the world would recommend Zoho Lightspeed integration to elevate your efficiency! Let's see quickly what Zoho and Lightspeed actually are.
What is Zoho and Lightspeed?
Zoho CRM is a robust customer relationship management system that helps businesses manage their sales, marketing, and customer support processes. Its features include lead management, contact management, pipeline tracking, and analytics. Zoho CRM enables businesses to streamline their sales operations and improve customer interactions.
Lightspeed is a comprehensive point-of-sale (POS) and e-commerce solution specifically designed for retail and restaurant businesses. Its robust functionality, inventory management system, multi-channel selling capabilities, sales analytics, and extensive integrations make it a powerful tool for retail businesses looking to streamline operations, improve customer experiences, and drive growth. 
Advantages of Zoho and LightSpeed Integration
Let's get into some numbers and studies, shall we? Zoho CRM integration brings several advantages to the table. However, the integration part is very technical and it is advisable to get professional help from certified Zoho partners.
We've laid out some of the advantages of a successful Zoho Lightspeed integration. Have a look!
I. Synchronized Operations
According to a study by Salesforce, businesses that integrate their systems experience a 35% increase in operational efficiency. That's a positive enough number to persuade companies into Zoho CRM and Lightspeed integration!
Information such as inventory levels, sales data, customer profiles, and transactions can be automatically updated and shared between the systems, reducing manual data entry and minimizing errors.
II. Inventory Management
According to Statista, 43% of shoppers are likely to abandon a purchase if their desired item is out of stock. That's no good and you can avoid this too by opting for integration!
Zoho Lightspeed integration will combine intelligent inventory management with the efficient point-of-sale system, which can ensure you receive stock levels in real time. This integration ensures that businesses can maintain optimal stock levels, avoid stockouts, and minimize overstocking. Having this integration will improve the overall efficiency of your business.
III. Data-driven Insights
Zoho CRM and LightSpeed Integration provide robust reporting and analytics features. When integrated, businesses can gain deeper insights into their sales performance, customer behavior, inventory turnover, and other key metrics. These data-driven insights empower decision-makers to make informed choices and optimize their business strategies.
IV. Accurate Sales Reporting
Zoho Lightspeed integration allows your organization to receive comprehensive sales reports and analytics. This accurate reporting allows you to make data-driven decisions, identify trends, and optimize your sales strategies. You can never go with the right numbers.
V. Increased Efficiency
A report by McKinsey & Company suggests that businesses can increase productivity by 20-30% through workflow automation.
Zoho CRM and LightSpeed Integration automate processes and workflows, thereby improving the overall efficiency of your business. Ultimately, this will allow your team to focus on strategic initiatives that could improve your business practices!
VI. Scalability and Flexibility
What's the point of having two or more software if it cannot accommodate the changing environment of your business and technology? As businesses grow, the Zoho CRM and LightSpeed Integration can be easily adapted to the increased workload. The flexibility of the integrated system ensures that it can adapt to changing business needs and support expansion plans that can be customized to fit your business needs.
You can easily avail all these advantages in no time by contacting the best & certified Zoho partners!
Step-by-step procedure of integrating Zoho & Lightspeed
Lightspeed to Zoho Integration
Below are the steps to create and insert a webhook to receive the contact information from Lightspeed and insert/update on Zoho
Step 1: Log in to Lightspeed
Step 2: In Developer Space, click on "Functions".
Step 3: Click on + New Function.
Step 4: Next, enter the Function Name, Display Name, and choose Category as Validation Rule.
Step 5: Write the integration code to fetch the body of post data generated from the Lightspeed webhook action and insert it into the Zoho CRM.
Step 6: Click "Save".
Step 7: Now, hover on the function created and click on the options icon next to the function name.
Step 8: Click on REST API and enable API Key.
Step 9: Then, copy the API Endpoint and add it to Lightspeed webhook as given in the following documentation –
https://developers.lightspeedhq.com/ecom/endpoints/webhook/#post-create-a-webhook.
Zoho to Lightspeed Integration
Below are the steps to create and insert contact information from Zoho to Lightspeed.
Step 1: Log in to Zoho CRM.
Step 2: Go to Settings.
Step 3: Under Developer Space, click on Functions.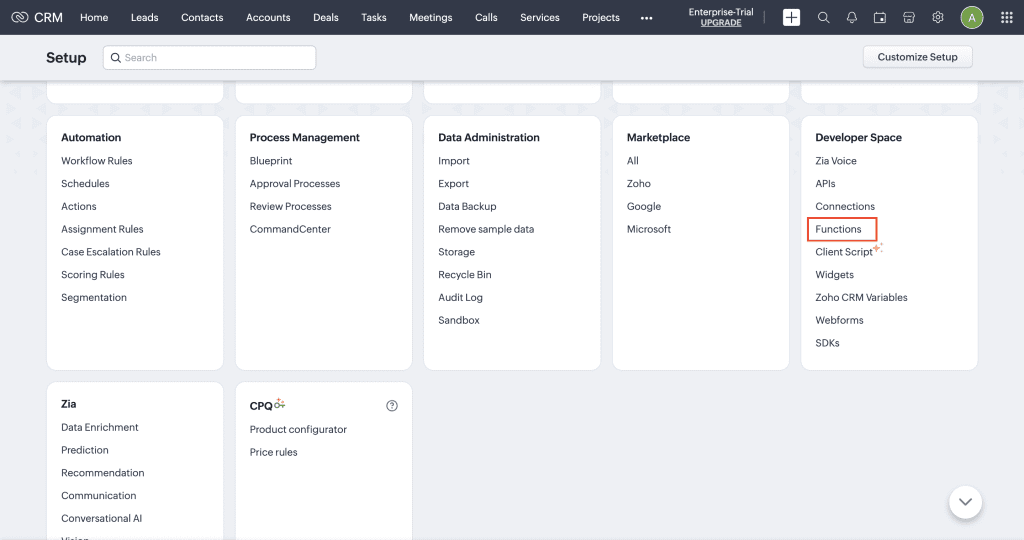 Step 4: Click on + New Function.
Step 5: Next, enter the Function Name, Display Name, and choose Category as Automation.
Step 6: Now, write the integration code to fetch the body of data generated from Zoho CRM to Lightspeed.
Step 7: Click on EDIT ARGUMENTS available below the function description and add the contact Id and Click on Save
Step 8: Now, go to Settings > Automation > Workflow Rules
Step 9: Click on Create Rule.
Step 10: Select Contacts as the module and click Next.
Step 11: Under WHEN, select created/edited.
Step 12: Under condition 1, select "All Contacts".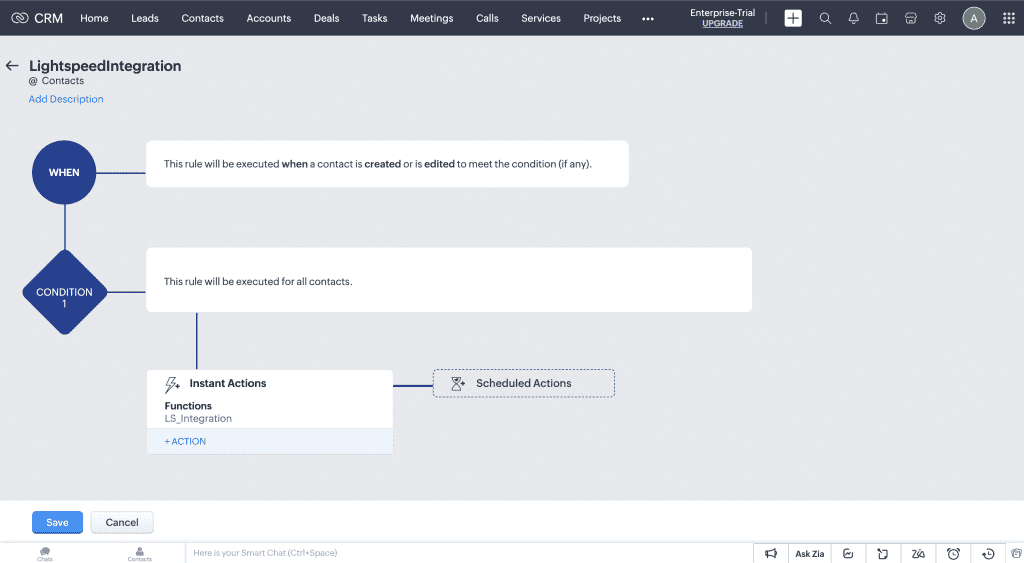 Step 13: Under Instant Actions, click on "+ Action" and select "Function".
Step 14: Select Custom Functions and select the function created for Zoho to Lightspeed synchronization.
Final Step: Then Add Contact. Contact Id as a parameter and Save.
That's it, people. We have successfully completed the process of Zoho Lightspeed integration!
Closing Thoughts
From what we have discussed, Zoho and Lightspeed integration enables your business with seamless data synchronization and efficient workflows. Zoho lightspeed integration will ultimately result in, streamlined operations, unified customer data, enhanced inventory management, improved sales analytics, and much more!