Shopify has revolutionized the eCommerce industry empowering many small-scale businesses to plant their foot steadily on the eCommerce game. No company will stay at the same scale as it started. While your business grows, It's important to stay ahead of your competitors in terms of Marketing to keep pulling in more customers for your business.
Klaviyo is the powerhouse of Customer Relationship Management and Marketing automation. Klaviyo Shopify integration will enable your business to automate your marketing process in an efficient manner resulting in seamless marketing campaigns.
However, it's important to note that even after the integration, there will still be limitations, for which we have a simple solution. We will get into that later on.
Now without further ado, Let's see how you can get through the process of Klaviyo Shopify Integration in simple steps.
Klaviyo + Shopify Integration
Step 1: Logging Into Your Account
This is just a no-brainer section. Visit Klaviyo and log in to your respective account.
You'll see your account name lying at the bottom left of your Klaviyo account dashboard.
Click on it and you'll see the option "Integration" like in the picture below.
Step 2: Navigating Through Klaviyo Shopify Integration
Once you've clicked your way through the Integration button, you will be met with an empty space with an "Add integration" button on the top right.
Once you've landed on the page, past your Shopify store URL under the "connection details" section to move forward with the Klaviyo Shopify integration.
If you check the "Sync your Shopify email subscribers to Klaviyo" option, your Shopify subscribers who opted for SMS or e-mail Marketing at the checkout will be automatically added to your Klaviyo list from this dropdown below.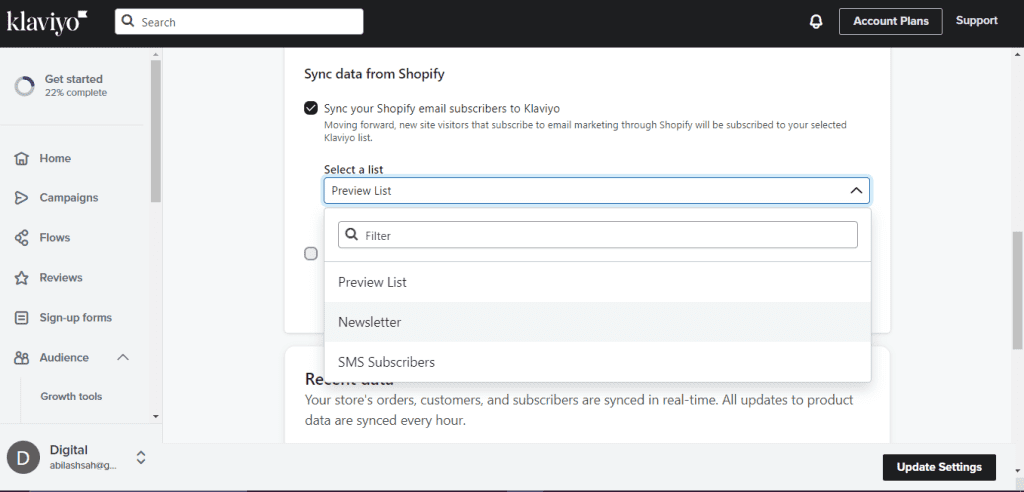 Now, Choose what type of data you would like to Sync by Klaviyo Shopify integration. You can sync the Name, email address, phone number, Email subscription status, SMS subscription status (if you have SMS enabled), and so on like in the image below.
After reviewing the contents in the rest of the page, Click on "Connect to Shopify". You'll be asked to confirm once again with a pop up window like below. Once you click on "Integrate", you will be then redirected to your Shopify account.
Final Step: Integrating Klaviyo with Shopify
In the redirected Shopify account, you'll be prompted with a number of permissions that you need to give access to, in order to finalize the Klaviyo Shopify integration.
Once you reviewed the page, Click on "Update App".
You will be back on Klaviyo and prompted with a pop window, Confirming the Klaviyo Shopify integration like below.
Click on "Integrate" and Voila! You have successfully integrated Klaviyo with your Shopify store.
The Limitations and a Simple Solution!
It's true that integrating Klaviyo with Shopify comes with a lot of benefits to reap but it also has some limitations.
Klaviyo tracks your Shopify eCommerce as "Events". For instance, if a user visits your website and scrolls through your product lists, that's considered an event. If a user puts their desired product on the cart and leaves it there for some time without checking out, that's considered an event too.
Now, we know that every eCommerce store is unique and so is yours. Because of that, you may want to send out a customized e-mail when you use Klaviyo for your e-mail marketing efforts.
For instance, Let's say that you're giving out a 10% discount on a particular product alone and want to mention that in the e-mail (which you definitely should!) to those visitors who haven't checked out the product. Unfortunately, you cannot customize the e-mails that Klaviyo sends out to your visitors.
The Solution? Well, it's pretty simple really! To customize the e-mails or any of your marketing efforts, you would need the expertise of certified Shopify developers! By going deep into the codes of your Klaviyo Shopify integration, you can customize your automated e-mails as much as you want!
You don't have to sit and learn coding like a nerd, Since we're those nerds! 😉. Let's craft your marketing efforts together to keep your customers engaged!
You're just one call away from changing the face of your eCommerce game.