If you're an eCommerce owner, you very well know where the biggest comparison and debate is taking place. It's happening over the four legendary robust eCommerce platforms – Shopify, Magento, BigCommerce, and WooCommerce. The hype and clash between these four are very real people! We're in for a fun ride, So buckle up and grab a cup of coffee (Or a Tea 😉) while reading this detailed eCommerce platform comparison.
To be more efficient and make the most out of your eCommerce business, you need to pick the right eCommerce platform that suits well for all your business needs from simply showcasing your product to the payment gateway for the same.
Once you've chosen the best eCommerce platform, you can focus only on the goals of your business!
We all know the two major eCommerce giants and If you want to read a detailed comparison only between Shopify and Magento you can do so here.
Okay, for now, We've got four prominent eCommerce platforms to compare that cater to all categories of business. Let's discuss the pros and cons of Shopify, Magento, BigCommerce, & WooCommerce together and find out what all the fuss is about, shall we?
*Exciting noises*
Shopify - The Neat and Simple Solution!
Shopify is like a big brother that most businesses will rely on when it comes to building their own eCommerce platform. Ask any B2B eCommerce development company, and they'll say Shopify is one of the best eCommerce platforms available without any hesitation.
Shopify is a very simple eCommerce platform with a user-friendly store experience. Well, It doesn't mean that Shopify doesn't have anything to show off to its competitors though. It offers an exclusive set of features and tools that can enhance the user experience to the next level!
An ideal Shopify development company would help online businesses flourish with its powerful personalization features. These features allow businesses to tailor their store to meet the unique needs of their customers. Shopify is highly scalable and can accommodate various needs of all sizes – from small-scale to large-scale businesses.
Also, one of the key advantages of Shopify is its overall performance. Shopify offers fast and reliable performance, ensuring a seamless shopping experience for customers. This sure will be helpful from a long-term perspective.
Furthermore, Shopify makes marketing simple and easy with built-in tools for SEO, email marketing, and social media integration, making it the go-to solution for small to mid-sized businesses wanting to have their e-store. Having this simplicity along with necessary features makes it one of the best eCommerce platforms you can confidently rely on!
Magento - Unmatched Customizations!
Whenever someone's looking to get the most out of their eCommerce store with tons of customization, Magento will be the primary choice for them. Magento is one of the most powerful and versatile eCommerce platform competitors today.
Magento offers a robust catalog management system that allows online businesses to manage their product information and create custom catalogs with ease. This has made Magento the go-to and best eCommerce platform for mid to large enterprises.
The powerful analytics and reporting features help Magento development companies to enable online stores to gain deep insights into customers' behavior and make data-driven decisions accordingly.
Magento also offers a suite of advanced marketing tools for email marketing, social media integration, and customer segmentation making marketing easy, and a comprehensive order management system that includes inventory management, order processing, and shipping integration.
Magento does care about your peace of mind since Magento is renowned for its strong security features. Such as SSL certification, PCI compliance, two-factor authentication, and so on.
BigCommerce - Offers Features You Can't Refuse!
To kick off, we can safely say BigCommerce is one of the most feature-rich and best eCommerce platforms available. Its built-in SEO features and excellent fully efficient CMS functionality allow businesses to create and manage content on their site and to rank on Google with ease.
In the latest hot news, we've come to know that BigCommerce and Google Cloud have joined forces to introduce cutting-edge AI-powered capabilities to the world of eCommerce. These innovative features are designed to empower merchants by boosting operational efficiency, elevating the overall customer experience, and ultimately driving increased sales. Among the offerings are AI-driven writing, personalized storefronts, and advanced data analytics, providing invaluable insights into business performance. By teaming up, the partnership aims to equip BigCommerce merchants with a competitive edge in the ever-evolving eCommerce arena!
BigCommerce can handle unlimited products, file storage, and bandwidth, which has made it a great choice for businesses of all sizes, and is mostly preferred by small & mid-scale stores, says many B2b eCommerce development companies. It offers access to cross-channel commerce that allows businesses to sell their products across multiple channels such as social media, marketplaces, and more. This mobile-friendly platform also ensures businesses can reach their customers on any device hassle-free.
BigCommerce features a single-page checkout process, and it offers a seamless and streamlined shopping experience for all its customers. If these features and offerings are not enough to place it among the best eCommerce platforms, we don't what will!
WooCommerce - The Favorite of the Enterprises!
Every B2B eCommerce development company will agree that WooCommerce is probably the best bet for startups and small-scale businesses starting their eCommerce journey. It is an eCommerce platform built on top of WordPress offering a wide range of features and tools to help online stores reach their boundaries.
One of the key advantages of WooCommerce's extensive development and design features provides e-stores with full control over the store's look and functionality. WooCommerce development companies offer customizable shopping carts and flexible product and shipping features through WooCommerce which help businesses easily tailor their store to meet their unique needs.
WooCommerce comes with a pack of powerful marketing tools which includes coupons, discounts, Social media integration, Customer account management, E-mail marketing integration, and much more that you cannot ignore!
Detailed reporting and store management features make WooCommerce a highly customizable and feature-rich platform that provides businesses with everything they need to succeed online.
Comparison Chart
Take a quick peek at our detailed comparison chart for a better understanding!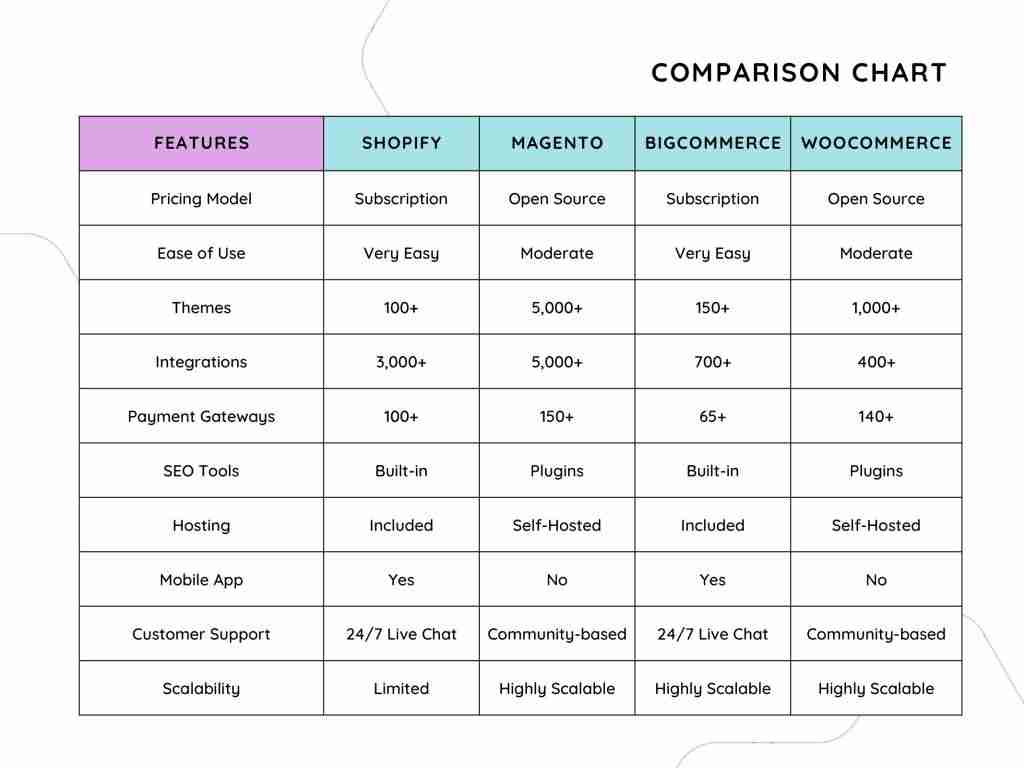 Conclusion
We have seen the major differences and unique features that these eCommerce platforms have to offer. Since we cannot point our fingers and say "This is THE best one", all you need to do is to choose the best eCommerce platform that suits the best for your business model.
By successfully implementing the right eCommerce platform with the help of a B2B eCommerce development company that meets all your business requirements and your customer's expectations, you will be able to build a streamlined system for your business easily.
Need a professional's advice in choosing the best eCommerce platform for you? Don't hesitate! Contact Digital Radium – The Best B2B ECommerce Development Company to help you choose & set up the best one suited just for all your business goals!